=CHIEN'S SKETCHES=
$15 Pencil Drawings and $35 Colored CG Drawings
Hi! Hi Tumblr people! I hope you like what you see. <3 Thanks for looking.
»»»
PRICE
Pencil Sketch
$15/Character
Colored Digital Sketch
$35/Character
Painted Card
TBA
Comic Short
PM me with details and we can work something out!
»»»
DETAILS
What you're paying me to do is a nice ol' sketch of whatever you want that I can (hopefully) handle. I can draw a lot of things, so if you're interested just send me a PM and I'll see if I can do it! I can draw anthros, BL, femslash, muscular, skinny, whatever! If you're curious about things I like to draw and thus tend to draw a bit more comfortably, it's cute superhero boys, girls, and even cuter butts! Hahaha. : ) I'll have some examples below. Just send me a PM and we can most definitely work something out.
»»»
PENCIL SKETCH EXAMPLESMore Examples of My Art on My TumblrAll art examples in each section is displayed from newest to oldest!
Superboy and Impulse (c) DC Comics
Inertia and Impulse (c) DC Comics
Linked for PG-13-ish drawings of Bart posing cutely/seductively. Just a good example of me and my happiness when it comes to drawing cute butts.
Kid Flash (c) DC Comics
Robin and Impulse (b) DC Comics
Homestuck (c) Andrew Hussie
»»»
PAINTED CARD EXAMPLES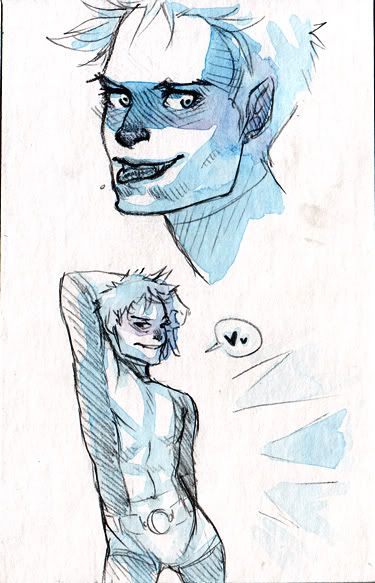 All characters above (c) DC Comics
Note: These were also free sketches I gave out at gifts during one Christmas, so they'll be similar but more cleaned up. I'll have more examples when I start offering this.
»»»
DIGITAL SKETCH EXAMPLES
Impulse (c) DC Comics
Homestuck (c) Andrew Hussie
Superboy, Impulse, and Robin (c) DC Comics
Applejack and Twilight (c) Hasbro
Note: A whole bunch of pony gals in human form. : )
»»»
SHORT COMIC EXAMPLES
Original
Motorcity (c) Titmouse and Disney